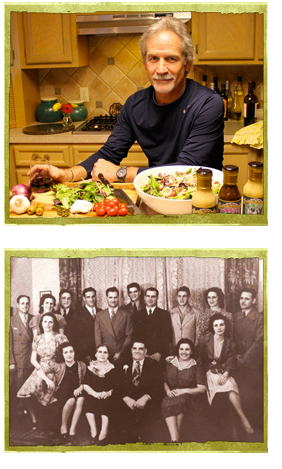 Leo Danna started making salad dressing 20 years ago in the kitchen of the family owned restaurant, The Quality Café, est. 1930. His passion for delicious, exquisite flavors originated long before that. (Danna family photo and Sam/Helen photo) Growing up in a big Italian family, it was his privilege to wake up every Sunday morning to the smell of fresh garlic and onions sizzling in extra virgin olive oil—the beginnings of the amazing "suga" sauce his mother was preparing for the day's pasta. Sitting at the Danna family Sunday table was one of great food and family fun.
So it was no stretch for Leo to blend fresh ingredients together in the kitchen to make an Italian dressing for the restaurant. It became a hit! Patrons began eating it on everything from salad to meat to cornbread. A one gallon recipe quickly became a five gallon recipe with Helen pouring in the spices, herbs and cheeses while Leo stirred it all together. Customers started asking for Leo's Italian back then and it's now one of the stellar recipes in our Leo's retail and food service line up.
Still a family operation in it's original updated facility in the Café building in downtown Beaumont, Texas—Leo's offers a special culinary experience for both food service and retail customers.