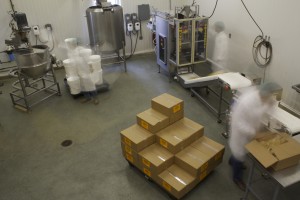 Leo's is a HACCP certified artisan dressing and sauce manufacturer. The premium ingredients we use, along with our small batch concept, distinguish us from other dressing and sauce manufacturers. We strive for uniqueness in flavor and formulation of our products.
Our products are free of gluten, trans fat, MSG, high fructose corn syrup, food dyes, and artificial preservatives.
Our signature product line includes:
Leo's Italian- an oil and vinegar blend, rich with garlic, parmesan romano cheese, and fresh lemon juice.
Leo's Balsamic Vinaigrette- a 3-leaf balsamic vinegar and oil blend with a touch of sweetness.
Leo's Honey Mustard- a low fat plain yogurt and oil blend sweetened with real honey.
Leo's Caesar- an oil and vinegar blend with classic parmesan romano cheese and anchovy overtones.
With more than 25 years of experience in food service, we have created our product line to fit the needs of any restaurant menu. Our versatile products have an array of uses—salad dressings, marinades, cooking sauces, dipping and finishing sauces.
If you are interested in ordering Leo's products for your restaurant or store, please email us or fill out the contact form below: