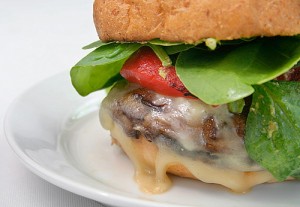 Portobella Mushroom Burger
2014-05-14 11:57:42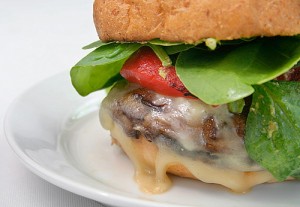 Serves 2
Ingredients
1/4 cup Leo's Italian or Leo's Balsamic Vinaigrette dressing
2 Portobella mushroom caps, stems removed
Texjoy Steak seasoning
2 slices provolone cheese
2 whole wheat buns
Optional ingredients
Sliced tomato
Fresh green spinach
Sliced grilled onions
Sliced avocado
Mayonnaise
Dijon Mustard
Instructions
In a large shallow dish, marinate each portobello mushroom cap with 2 tablespoons Leo's Italian or Leo's Balsamic vinaigrette dressing. Also, lightly season each mushroom cap with Texjoy Steak seasoning. Turn a few times allowing each side to coat. Let marinate for 30 minutes to 1 hour.
In oven-safe saute pan add 1 tsp olive oil and turn on med-high heat.
Place caps in saute pan, gill side up and sear for 3 minutes and then flip and sear for 3 more minutes. Flip again and add 1 slice of provolone cheese to each mushroom. Place in oven at 350 degrees F for 20 minutes.
Serve on warm whole wheat bun and add all desired fixings.
Leo's Originals http://www.leosoriginals.com/